Facility location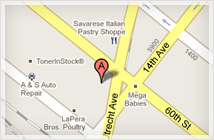 6010 New Utrecht Ave
Brooklyn, NY 11219
Phone: 718-431-8938
E: Info@itstherapygroup.com
Evaluations & Eligibility
Do you feel that your child may require specialized therapy or educational services? The best way to determine this is by having your child undergo an evaluation process.
The evaluation process may analyze some or all of the following:
Social History
Psychological Evaluation
Educational Evaluation
Speech and Language Evaluation
Occupational Therapy Evaluation
Physical Therapy Evaluation
Audiological Assessment
Contact your local Department of Education to request an evaluation and determine if your child requires these services. All services are funded by the New York City Department of Education and the New York State Education Department and are available at no charge to eligible children and their parents.